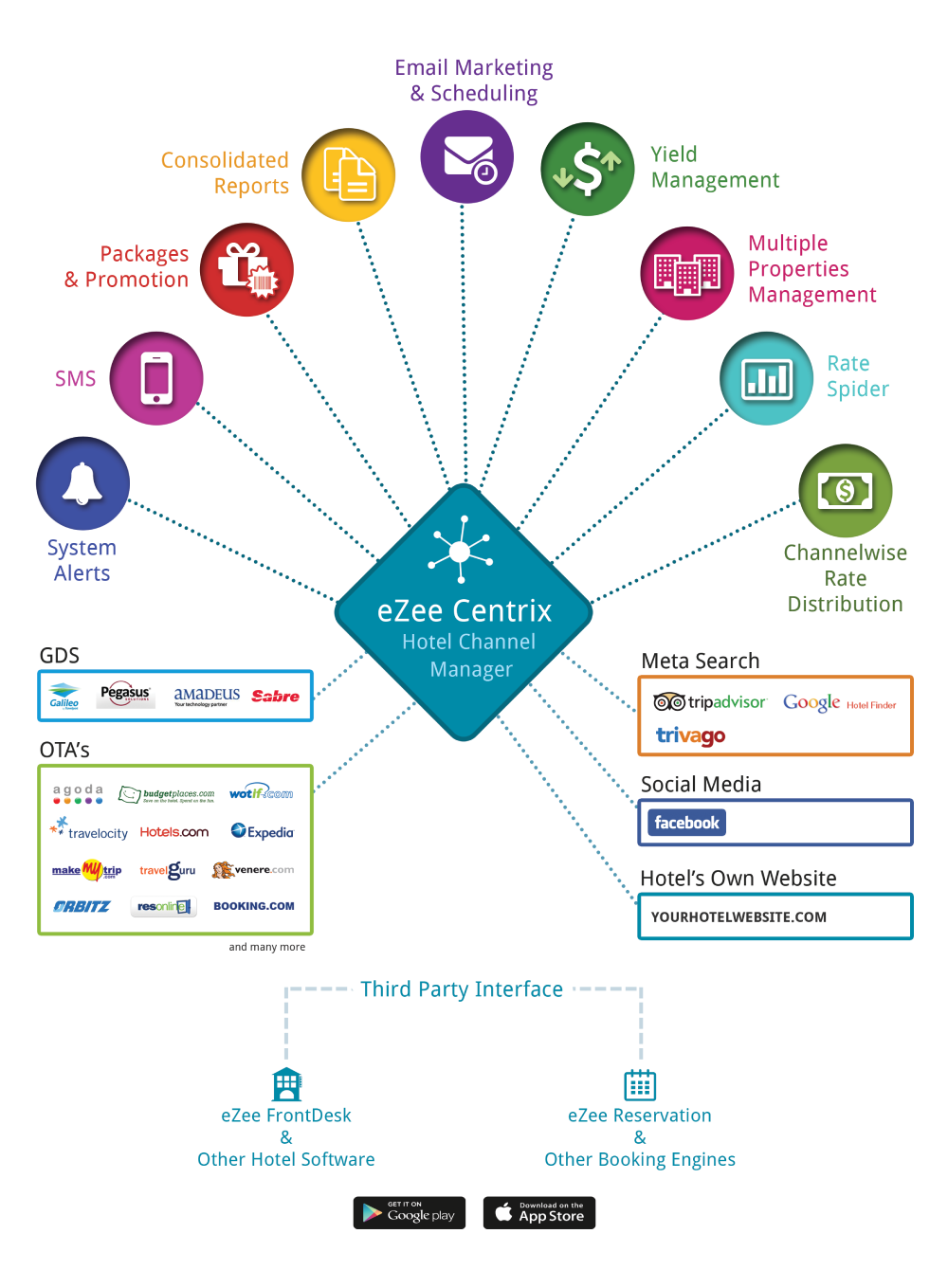 eZee Centrix- hotel channel manager will provide you with the tools to handle and revise the property rates and inventory on several channels and travel websites simultaneously. Associated with various channel partners and Global Distribution Systems, eZee Centrix gives away an imminent global exposure to your property.
The distribution system will automatically update all the changes made on your end to all the channels connected to your property instantaneously. It is connected with more than 70 international OTAs, plus there are always new OTAs added on a regular basis.
Following the benefit of a cloud based system, it can be accessed from anywhere at any given time even through smart phones and tablets. eZee Centrix ensures that your rooms are distributed globally by making your property connect with Global Distribution System (GDS) consisting of Amadeus, Sabre, Galileo and Worldspan.
In today's highly competitive market, global exposure is a must and eZee Centrix is the right tool to attract new clientele.
Features
Stop Sale at One Click
Foreign Currency Rate Updates
Make Overbooking a Thing of the Past
Maintain Rate Parity without any Effort
Flawless Interface with Hotel Software and BE
Synchronization with Vacation Rental Portals
Benefit of 100+ Online Distribution Channels
Take Advantage of our Channel Manager API
OTA Commission / Billing Management
Analytics
Audit Logs
Keep an Eye on your Competitor's Rate
Exclusive Expert to Help you Anytime Anywhere
Reap the Benefits of Mobile Channel Manager
Roll Over Updates
Synchronizing Master and Derived Rate Plans
Instantly Manage all your Distribution Sites
Efficiently Utilize Complete Hotel Inventory
Automatic Room Rate Updates for Maximum Profit
More info about eZee Centrix Get Demo of Channel Manager Download Brochure