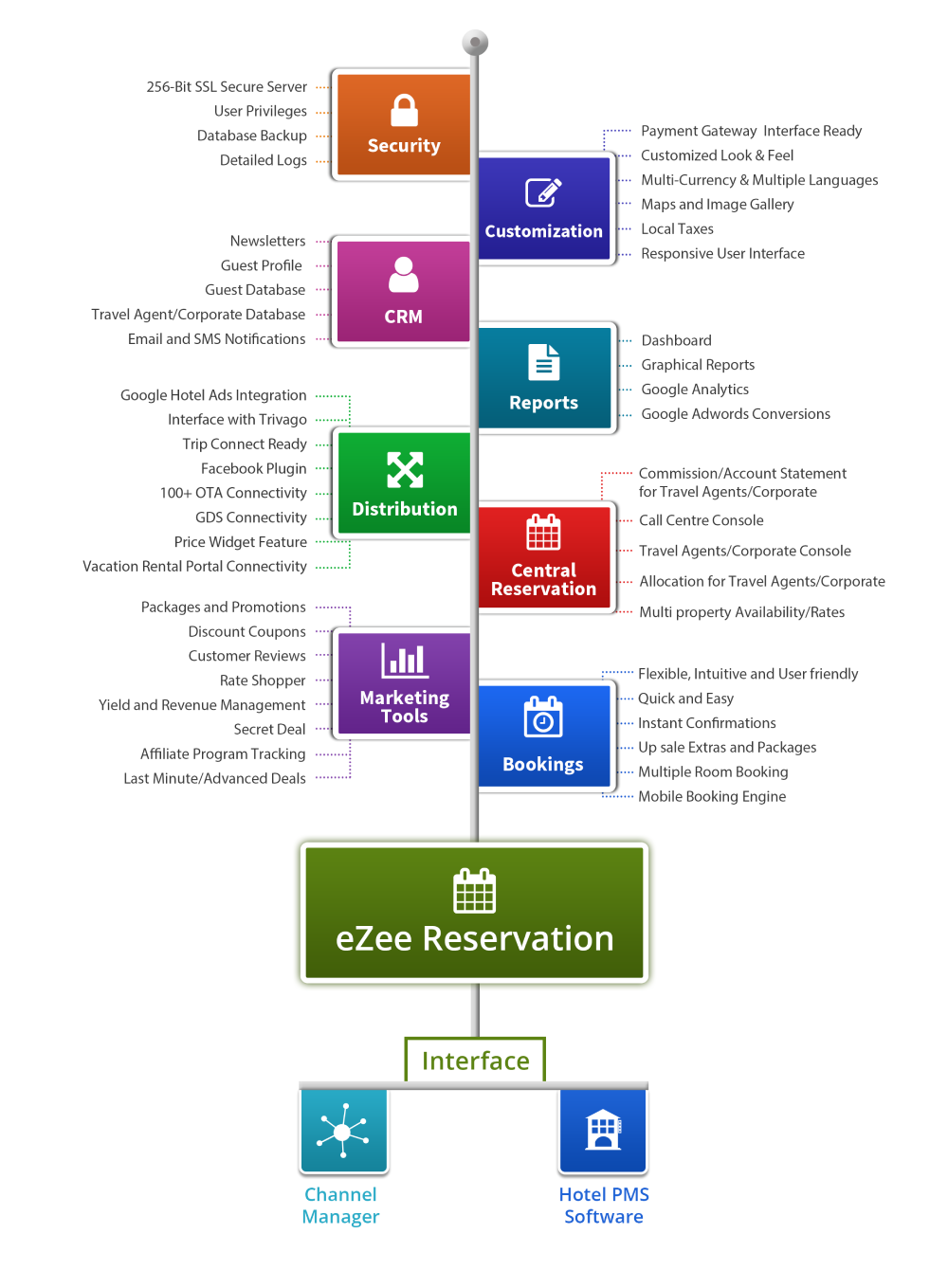 eZee Reservation is an Online Booking Engine which integrates flawlessly with your property website hence enabling your clients to reserve rooms, and view promotional packages and offers straight from the website. Its implementation helps in upsurging your international horizon by providing your guests a remarkable booking experience.
The booking engine lets you setup your entire property details through single dashboard while giving you direct access to key functional areas of your property. Being cloud based, it does not require any kind of hardware or software upgrade, but only a good internet connection and web browser to get started. eZee Reservation runs on all the major internet browsers and can be accessed from smart phones and tablets as well.
The reservation system is full of cutting-edge features that lets you track your property bookings and continuously engage the bookers or even direct the bookings to your eZee PMS or any other Hotel Software you may be using. It is a perfect solution for individual hotels, hotel chains and resorts. The customization options offers full control over the branding which fits naturally into the hotel's website aesthetically. Its intuitive reporting system gives you up-to-the-minute report of the bookings your property has received through the internet.
Another great feature of eZee Reservation is the Central Reservation System, which gives you unified access to rates, inventory and bookings of all properties under a single panel thus streamlining operations for chain properties.
Features
The Perks Of Responsive BE
Personalize to Match Your Brand
Multiple Interfaces & Room Bookings
Ready Plug & Play Widgets
Create Packages & Promotions
Secret Deal for Frequent Guests
Discounts for Corporate Clients
Multiple Languages & Currencies
Multiple Languages & Currencies
Sale Through Your Facebook Fan Page!
TripConnect Premium Partner
Interface with PMS System
Auto & Manual Email Scheduling
Mobile Friendly Templates
Current Year vs Past Year Statistics
E-commerce / Google Statistics
Hotel Listing & Preferences
Dashboard for Revenue, Bookings Statistics
Manage Rates, Inventory and Bookings
Remarkable Tool, Rate Management
More info about eZee Reservation Get Demo of Booking Engine Download Brochure